Pop diva and girl boss Amanda Cherie launching new single 'Can't Logic' September 2019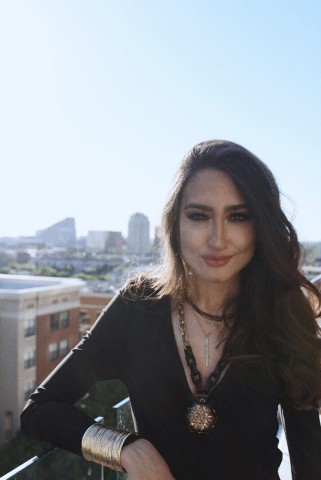 Photo by Milquetoast Designs
Music, psychology and business may seem worlds apart, but they blend beautifully to make the unique neopolitan blend that is Amanda Cherie.
Pop music artist, TEDx speaker and Fortune 150 freak in the spreadsheets? Yep, that's her. Most days Amanda goes from applying psychology to business to infusing psychology into her music.
As an ambitious millennial herself, Amanda Cherie creates deep, edgy music for other ambitious millennials who feel less put together than they may appear. "My mission for my music is to create an oasis for others who may look put together, but are aching for comfort and real connection underneath it all," says Cherie.
Amanda's music is inspired by her own experiences in life, including a Lifetime-movie-level quarter-life crisis that included a destructive relationship where she couldn't even sing in her own home. She lost her life savings, her community and almost her health. The cherry on top was the overworked, underpaid and strung-out-on-grad-school-papers overwhelm. "Nobody could see what was going on underneath my smiles and power suits, but I felt like a train wreck inside," says Amanda.
Determined to define her story for herself, Amanda reclaimed her freedom, rebuilt her life and released her voice. "As I reinvented my life from the ground up, I poured myself into writing a 'soundtrack to a quarter-life crisis.' I started off my soon-to-be string of millennial sirens with a resilience-themed first single called "Brand New Empire," she says.
Amanda Cherie's next single "Can't Logic" launches September 2019. "Can't Logic" is about letting go of resistance, formulas and the illusion of control. "It's about freeing your intuition from your ego," says Amanda. "Ironically, it was losing everything that showed me how much abundance and love exists. I came to understand that you can't think or plan yourself to perfection. The best you can do is to act on an educated guess. The best you can be is a continuously improving and loving version of yourself."
Amanda Cherie's music is truly an oasis for the young and ambitious who may look put together, but are aching for comfort and real connection underneath it all. "It's like candy for your ears and coffee for your mind", she adds. Her latest single Can't Logic will be released on Spotify, Apple Music, iTunes and over 150 more platforms on Friday midnight EST, 9/20. More information about Amanda Cherie can be found on her official website.
Media Contact
Contact Person: Amanda Cherie
Email: Send Email
Country: United States
Website: amandacherie.com