UltraDash Launches Dual Lens Dash Cam To Provide Drivers A High-Quality Safety Experience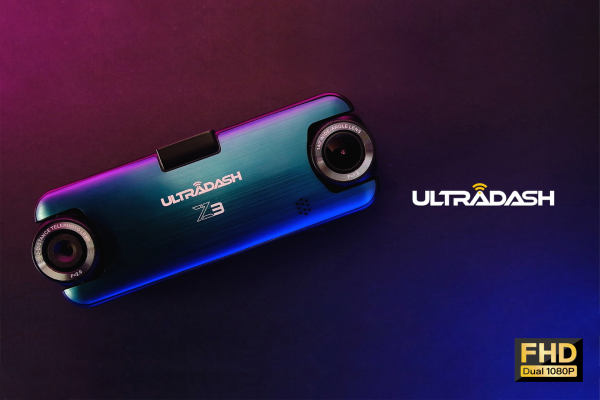 A manufacturer and leading innovator of user-friendly digital imaging dash cams, UltraDash has announced the launch of its UltraDash Z3 Dual lens dashboard cameras built to help drivers improve on-road awareness.
The UltraDash Z3 comes in two editions; the Commercial Edition for professional drivers (rideshare, taxi, truck) featuring interior and exterior recording capabilities, and the Standard Edition for commuters, with front and rear-facing recording to capture license plate numbers of other road users in the event of a hit and run.
Currently available for sale on Amazon, the UltraDash Z3 promises to ease the strenuous and sometimes frustrating process of placing insurance claims or proving innocence in an auto crash. This it does by providing raw video footage as a solid reference which is also admissible as evidence in court.
Suitable for all drivers, the UltraDash Z3 can equally be used by police for duty recording, as well as road trip enthusiasts or racers who would greatly appreciate the ability to record travel itineraries and playback adrenalin-filled race-track experiences.
The UltraDash Z3 is armed with a patented magnetic GPS charging mount that allows for quick and easy placement, or removal, without a glitch in connection.
Equipped with a high resolution and low light image sensor component, and an F1.8 large aperture six-glass lens, the Z3 easily offers vivid colors with WDR/HDR functionality.
It also enhances the suppression of overexposure under intense light to produce high-quality nighttime images.
In addition to its automatic file protection feature, sporting a G-sensor that detects abnormal acceleration to automatically activate protection for the current video file, the UltraDash Z3 is also powered by a supercapacitor that guarantees a more reliable and longer lifespan.
It packs a 2.7inch LCD that lets users conveniently adjust the recording angle, set menu operations, monitor real-time recording, and playback footage instantly.
Installation is done in 3 easy steps starting with plugging the car power cable into the 12-volt socket, attaching the Z3 to the suction cup on the windshield, and connecting the power cable to the Z3 which automatically turns on and off in synchrony with the car engine.
The UltraDash Z3 scores good marks on Amazon, and interested drivers can view a video of the Z3 in action on YouTube.
For more information, please contact below.
Media Contact
Company Name: UltraDash
Contact Person: Luke
Email: Send Email
Country: United States
Website: https://cansonic.com/products/ultradash-z3-standard