BHUMAN® Launches bättre™, an Asian-inspired Shampoo That Redefines the Future of Sustainability in Personal Care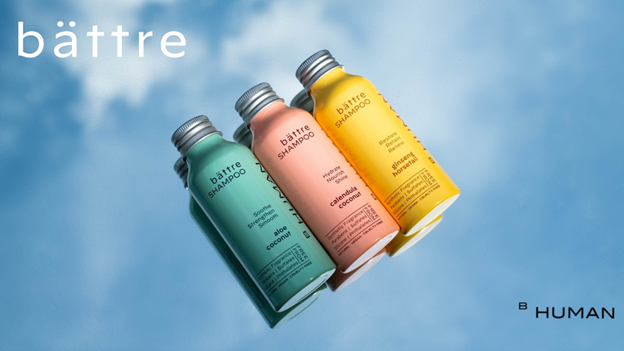 bättre™ is plant-based, 100% natural, and is formulated without synthetic fragrances, parabens, sulfates, silicones, or phthalates.
Just in time for the holidays, BHUMAN® launches its second sustainable line. bättre™ is a unisex, water-activated powder-to-lather hair wash.
SHERIDAN, WY – October 7, 2021 – In the US alone, some 550 million used plastic shampoo bottles are thrown away every year. This packaging ends up polluting the environment as it can sit in our landfills or oceans for over 400 years before biodegrading. Yeeli Lee, the founder of BHUMAN®, wants to inspire everyone to do our bit for the planet in our daily personal care routines starting with bättre™ – a revolutionary "super concentrated" shampoo that is in powder form with a low carbon footprint. The hair wash is gender-neutral, vegan, 100% natural, and made in USA. It is also packaged plastic-free, in an infinitely recyclable aluminum bottle.
In 2020, BHUMAN® launched its first waterless face wash BCLEAN. The brand has since expanded into 4 countries, including partnerships with mainstream retailer Watsons, independent zero waste retailers, and Singapore Airlines, the world's most awarded fleet.
Lee says, "We are thrilled to expand into the hair care category with 3 powder-to-lather shampoos. With every hair wash, our collection will evoke some of your most treasured memories – the fresh scent after a rainfall, a beach vacation in Bali or a stroll in a peaceful Japanese garden."
bättre™ is plant-based, 100% natural, and is formulated without synthetic fragrances, parabens, sulfates, silicones, or phthalates. Anhydrous (waterless) formulas have existed in Asia for centuries, from matcha tea in Japan to turmeric in India to traditional medicine in China and Korea.
Lee says, "There has been more buzz about Asian culture recently especially with the success of Marvel's latest superhero Shang-Chi, but the concept of waterless formulas is more than 2,000 years old. Two-thirds of the world's population may face water scarcity by 2025. Meanwhile, brands are shipping products made up of 80 percent water in single-use plastics around the world. Our clean and green products are good for you, and better (bättre in Swedish) for our planet."
What Early Users Say About the Product
"I have dry and long hair, with an oily scalp. My hair feels so much softer and easier to manage. The last time I felt this was when I did Keratin four years ago. I love this so much." Karyn, ecowarrior and conscious living vlogger.
"I have long, thinning, and color-treated blond hair. The powder foams a lot. My hair felt luxurious after washing. The wash experience was surprisingly easy. It's better than the high-end brands I use. I will definitely get it for my kids because it is chemical-free." Ashley, executive coach, and mother to two teenage boys."
"I have short, thin hair and a sensitive but oily scalp. The foaming texture was smooth. The best part was rinsing. It was fast. I enjoyed that. The funny part is my scalp is not itchy anymore. Usually when I forgo my anti-dandruff shampoo, my scalp itches. Surprisingly, I don't have dandruff anymore, too." Nicolas, banker, and frequent traveler."
ABOUT THE FOUNDER
A true global citizen, Yeeli Lee spent the last twenty years traversing the world in various leadership roles, including Vice President of Amazon before founding her startup company BHUMAN which is headquartered in Singapore and Wyoming, USA. BHUMAN was recently featured on The Power List 2021 by Harper's Bazaar as a brand championing sustainability at the national level. It was incubated by The Bridge Fashion Incubator, best known for supporting startups that work in the intersection of Sustainability, Design and Technology. BHUMAN hopes to empower people to be the change they want to see.
Lee is available for all media interviews ranging from broadcast, podcast, radio, and print.
NAME OF COMPANY: FA8 & COMPANY LLC
BRAND: BHUMAN®
Contact Name: Yeeli Lee
Instagram: @bhuman8
Facebook: @bhuman8
Website: https://www.bhuman.store/
Email: hello@bhuman.store
Media Contact
Company Name: BHUMAN®
Contact Person: Yeeli Lee
Email: Send Email
Phone: 5043018001
Country: United States
Website: https://www.bhuman.store/