Shanpepe Films "No Biscuits in Heaven" Joins the Peachtree Village International Film Festival Following Its Scriptwriter's Finalist Placing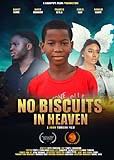 Produced in Benue State, Nigeria, "No Biscuits in Heaven" is a surprising addition to the screenplay competition slated in the 16th edition of the Peachtree Village International Film Festival
Shanpepe Films, a Nigerian film/music production company, is thrilled to announce that "No Biscuits in Heaven" has joined the race to win the screenplay competition at the 16th annual edition of the Peachtree Village International Film Festival. The Peachtree Village International Film Festival organizers added "No Biscuits in Heaven" to the list of finalists ahead of the festival slated for October 21 to 23, 2021.
"Shanpepe Films is very grateful for the kind gesture offered by the Peachtree Village International Film Festival following its scriptwriter's Finalist placing and hope to record great results for all," explained an enthused John Tumeun, Founder of Shanpepe Films. "With time, we intend to partner with large streaming platforms and production studios across the globe to produce and stream stories that will sit amongst the best in the world. We are on a constant look out for partners and sponsors to strengthen the company," he added.
"No Biscuits in Heaven" is a powerful, interesting, and unique story written by one of the world's finest writers, Ruth Finnegan. It is being produced in Benue State, Nigeria, by Shanpepe Films and directed by John Tumeun. The movie, set in 'Heaven' and on 'Earth,' features Francis Atela, the runner-up of the country-wide Nigerian Idol Season 6, Nancy Isime, one of Nigerian's foremost actresses, 11-year old David Nnorom, and a host of others.
"Making this film in Benue State is a beautiful challenge," continued John Tumeun. "It is one of a kind and needs only passionate hands to make. We had challenges of getting the desired and convincing set design and costume designs especially for characters who are playing the Heaven part."
"No Biscuits in Heaven" is the tale of a naughty little boy, banished from heaven for a misdemeanor, who can return if he observes and records seventy times seven acts of real goodness on earth. He manages to bargain God (who rather likes his mischievous ways) down to seven. God laughs and agrees. But the little boy, filled with fear and misgiving, still has to go.
He leaves and lands on earth with a bump. Distraught, lost, hungry, and desperately homesick, he staggers through the streets, lost in this new culture and longing only to return to heaven. He meets many down-to-earth folks, kind and not kind, but oblivious of "his own acts of kindness", naively sees only the good in them (and any biscuits to assuage his growing hunger are constantly elusive).
At last, he finds a friendly church community (meeting again one of the people he'd encountered earlier). Rather against his wishes – he is terrified of not doing things right – they persuade him to come into service. To his surprise, he finds himself joining enthusiastically in the jazzy hymns. Then they let him help with the after-service tea and – joy – the crunchy BISCUITS. As a result, he startles everyone in heaven by opting to stay on earth after all – "they're imperfect, just like me." And after all – as God (who has his unexpected reasons) laughs – CRUNCH!
About Shanpepe Films
Shanpepe Films is a Nigerian film/music production company founded in 2018 by Filmmaker John Tumeun and was fully registered in 2021 with the Corporate Affairs Commissions (CAC) of Nigeria. Some of the productions of Shanpepe Films include short films such as the award-winning "Kathy," and feature films, both in English and Tiv languages, among them are the widely admired and influential indigenous film, "Komatii U Kuu" (Burial Committee). At the moment, Shanpepe Films is producing a unique story, titled "No Biscuits in Heaven," written by multiple award-winning author and anthropologist Ruth Finnegan.
Media Contact
Company Name: Shanpepe Films
Contact Person: Media Relations
Email: Send Email
Country: Nigeria
Website: https://www.ruthhfinnegan.com/