Celebrity Orthodontist Dr. Bobbi Peterson Set To Launch New Toothbrush "Big Mouth"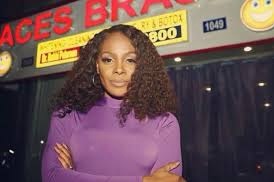 Second-generation, HBCU-educated dentist, Dr. Bobbi Peterson, announces the launch of a groundbreaking toothbrush, "Big Mouth" with a unique design and amazing functionality
Dr. Bobbi Peterson is staying true to her commitment to communities of color and her mission to make oral health central to public health as she is set to launch the "Big Mouth" toothbrush. Over the years, Dr. Bobbi has dedicated her resources to promoting oral health, using all available platforms for advocacy, especially her practices, ACES BRACES, which is strategically located in the heart of Brooklyn, New York.
The global dentistry industry continues to evolve as more brands and practitioners emerge in different parts of the world with solutions to meet the growing and diverse needs of consumers. In a related development, several toothbrush brands have created a plethora of products for their target audience. However, Dr. Bobbi Peterson is looking to raise the bar with the creation of the Big Mouth Toothbrush.
The Big Mouth Toothbrush is a big idea, informed by dental science and practice. The product offers an amazing blend of style and effectiveness to meet the 21st-century consumer demands in the contemporary marketplace. Dr. Bobbi leverages her years of experience as an orthodontist, being one of the three females serving the community of Brooklyn, New York, to design the toothbrush. America's First Black Electric Toothbrush is designed to cut tooth-brushing time by half, ultimately encouraging better oral hygiene.
Dr. Barbara Peterson practices at Aces Braces, specializing in all aspects of orthodontics. She has become increasingly popular for her unique combination of quality and relative affordability. The categories of services she offers include retainer installations, crooked or crowded teeth, gapped teeth, and crossbites. Dr. Peterson takes pride in providing patients with dental care that best suits their oral needs, listening to each patient, and creating a partnership to maintain and improve lifelong oral health.
Dr. Peterson received her dental degree from Howard University, subsequently completed a residency in orthodontics at Maimonides Medical Center. Despite her reputation as a celebrity orthodontist, Dr. Peterson continues to help different categories of patients across Brooklyn improve their oral hygiene.
Media Contact
Company Name: Barnes Media Group
Contact Person: Dr. Rashae Barnes
Email: Send Email
Country: United States
Website: www.barnesmediagrouppr.com