Bicycle Store Offers Black Friday Electric Bike Scooter Sales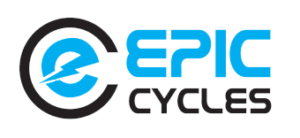 Epic Cycles have announced running sales discounts with its e-scooters, electric bikes, and accessories in the run-up to Black Friday. The company which sells all types of bikes and scooters will be launching a range of Black Friday e-bikes with up to 38% off the MSRPs for the next four weeks. The bike store is giving customers the opportunity to pre-order these great looking models now on the company's website, with expected shipping to be dispatched before Christmas.
The e-scooters offered by Epic Cycles this Black Friday include the X7 Scooter, X8 Scooter, Kaabo Wolf Warrior 11 Pro, Kaabo Mantis Pro, and BlueRev Cobra for everyday use. Discounts on these hot deals range from 10% for the Kaabo Mantis Pro, priced at $2,699, to 25% for X7 Scooter, priced at $599. The other items available for Black Friday are two electric bike models from the company, which range 30 to 60 miles on a single charge, the Magnum Summit and Magnum Cosmopolitan.
Other e-Bikes on sale include the Stromer ST5 with a suspension fork and the ST5 with a rigid fork, costing $13,999 and $12,999, coupled with the Forever Electric, $1,799, and BlueRev Cobra, $2,599. The Kaabo Wolf Warrior X Pro+ and Kaabo Wolf King GT, each worth $2,999 and $4,2999 respectively, are available for pre-order. Epic Cycles is also offering Sur-Ron X Black ($5,999) and Sur-Ron Light Bee S Black ($4,199) dirt bikes, priced for new and experienced riders.
Used demo electric bikes and scooters are available as part of the month's deals. They include:
X7 Scooter: $499.99
X8 Scooter: $599.99
Magnum Summit: $2,399.99
Magnum Cosmopolitan: $1,399
Forever Electric: $1,399.99
BlueRev Cobra: $2,199.99
BlueRev Miami Vice: $2,399
BlueRev Moto81 M-500: $2,399.99
BlueRev Moto81 M-750: $2,719.99
BlueRev Moto81 M-750 Turbo: $3,399.99
Wolf Warrior 11 Base: $2,599.99
Magnum Payload: $3,249.99
In addition to the above-mentioned deal, the bike store is offering custom-shop accessories at steep discounts. Herewith are the products and discounted prices:
Serfas Pro Flow locking grips: $17.99
Serfas Apollo LED combo: $27.99
Serfas USL5 and USL5R: $39.99
Oury lock-on mountain grips: $34.99
Serfas thunderbolt strip USB front LED: $49.99
Sigma Eloy: $19.99
Serfas Thunderblast strip USB rear: $49.99
Serfas Thunderblast strip USB front LED: $49.99
BlueRev side mirror silver lens: $29.99
Epic scooter bag: $34.99
Polisport child seat: $119.99
Livall SH55M smart Bluetooth helmet: $125
Livall BH51M smart Bluetooth helmet: $190
Livall BH62 smart Bluetooth helmet: $180
BlueRev fire blast 100 A02 bicycle taillight: $29.99
BlueRev LED light combo zecto drive: $39.99
BlueRev torch 1000 headlight: $69.99
BlueRev blaze 1500 headlight: $89.99
BlueRev Bullet 200 headlight: $35
BlueRev firefly 450 headlight: $50
BlueRev Comet 150 headlight: $39.99
BlueRev bicycle handlebar side mirror blue lens: $34.99
BlueRev petit grip mirror blue lens: $39.99
BlueRev petit grip mirror silver lens: $34.99
Some of the listed deals are available for presale on the company's website.
About Epic Cycles
Epic Cycles is a Canadian bike company founded in 1991 and headquartered in Vaughan, Ontario. It distributes a range of cycling products, including electric bikes, e-scooters, bicycle lights and headlamps, handlebar accessories, and many others. The bikes are built to meet industry standards as well as the challenges of rugged Canadian terrain. The company currently has over 1000 products in stock to satisfy customers' demands, and provide free shipping.
Media Contact
Company Name: Epic Cycles
Contact Person: Media Relations
Email: Send Email
Phone: 647-715-9000
Address:6221 HWY 7 W Unit 1
City: Vaughan
State: Ontario L4H 0K8
Country: Canada
Website: https://epiccycles.ca/