Smart Touch Starts Exporting Electronic Boards Made of P-CAP, the Sensor That's in iPhone
Video Link: https://www.youtube.com/embed/S9hBorxDZr0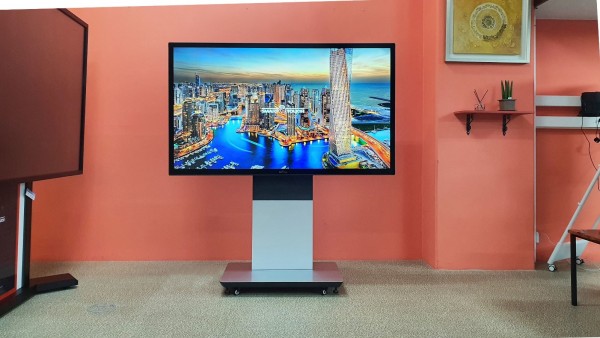 Smart Touch, an electronic blackboard company which is No.1 in sales in Korea, has begun exporting overseas. Nowadays, Educational institutions and companies throughout the world are seeking to improve their smart education environment. Smart Touch has also released new products too jump into such change in the global market as an extension of their outstanding domestic sales.
It can be said that the electronic boards are all about the panel and the sensor and especially the quality of the product can be determined according to which sensor is being used. Starting from the first electronic blackboard 20 years ago, the technology has been improving from a front-projection-type electronic to a camera sensor and an IR sensor electronic board. However, only few companies have managed to mass-produced electronic boards with constant voltage sensors. Here, you can think of a constant voltage sensor as a sensor used in Apple or Samsung smartphones.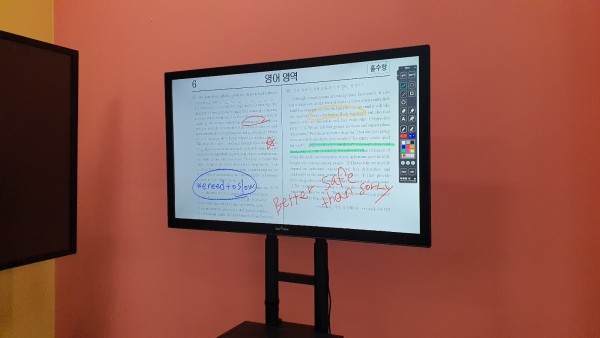 Steve Jobs' Apple is a world-famous smartphone company. If it's a sensor that Apple uses, you know that it's a sensor that has already been approved for quality. Apple's sensors are manufactured by a company called TPK in Taiwan. Smart Touch has developed a P-CAP sensor for electronic boards in a technical partnership with TPK since 2018. TPK, with annual sales of 4 trillion, supplies sensors exclusively to Smart Touch in Korea. Currently, Smart Touch is the only company that mass-produces electronic boards using TPK's sensors.
Smart Touch is mass-producing and selling new products with the latest P-CAP sensor from 55-inch, to 65-inch and 75-inch products since 2020, while 43-inch products have already been produced and sold from 2019. Among the world's market, Smart Touch is the only manufacturer that produces products with P-CAP sensors in a variety of inches. And sales for this are expected to skyrocket.
Smart Touch is expected to spread in the global market with its non-face-to-face devices products starting with this export and its potential revenue is expected to skyrocket through it. You can check out all products of Smart Touch, whose slogan is 'quality is the philosophy of craftsmanship' at shopping malls and open markets.
Media Contact
Company Name: Smart Touch Company Limited
Contact Person: Ji Hye Jeon
Email: Send Email
Phone: +82 10 4126 4977
Country: South Korea
Website: https://plmng.gobizkorea.com/user/goods/frontGoodsPreView.do?goods_no=GS2020060391944