MyFlexiWork Renders An Effectual Online Marketplace for All Digital Media Freelance Services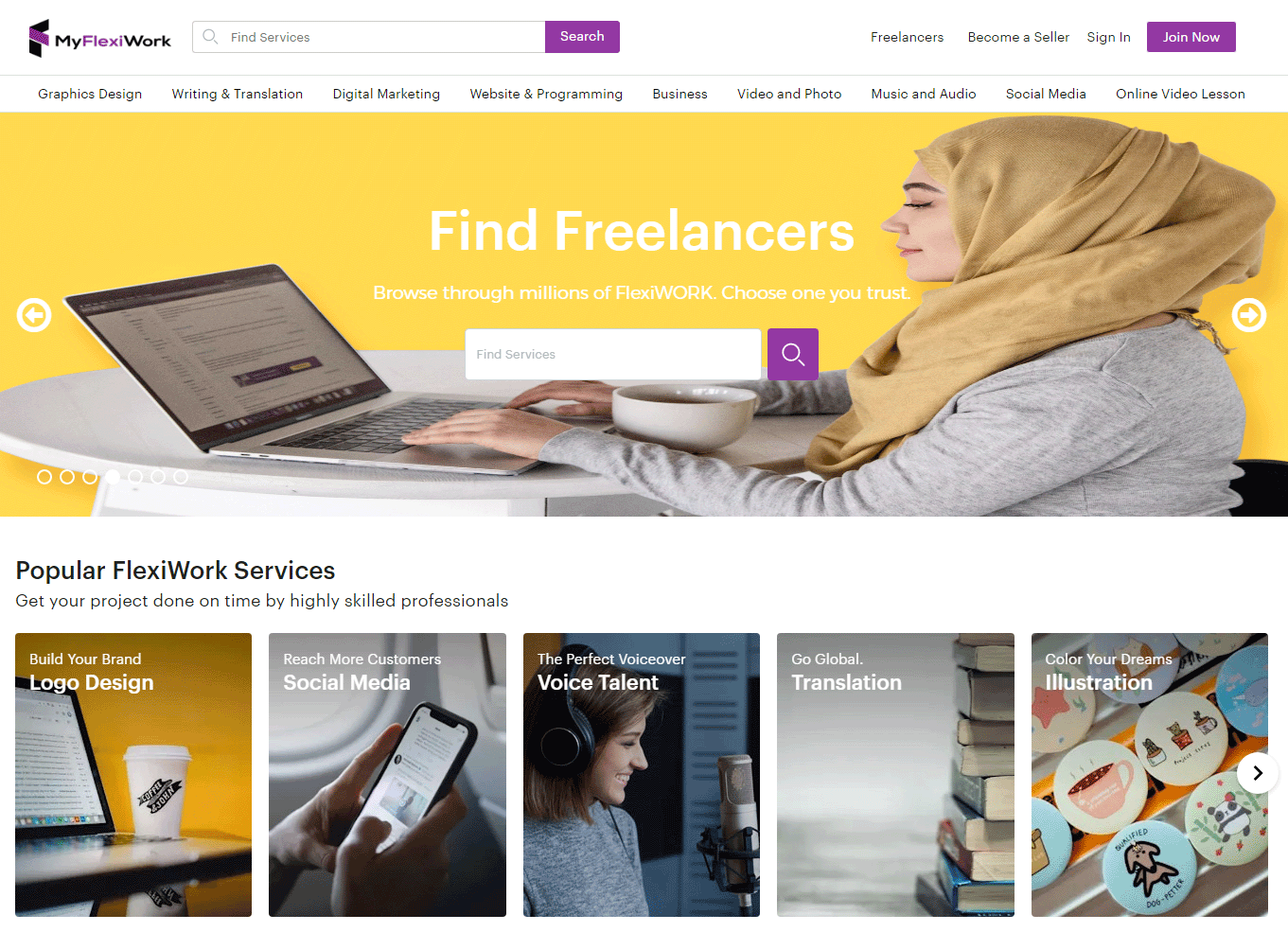 The significance of freelance services arouses to its optimum during the Covid 19 situation. This pandemic period brought a revolution in the way of doing work all around the world alike. For survival, most of the companies effectively adopted the Work from Home method. Other companies chose freelance workers for their various projects. Thus a boom of freelance services occurred.
The benefit of freelance services is that buyers can get high-quality work done from the person they chose from around the world. Similarly, it gives the sellers access to the global market. In fact, the whole universe is wide open in the digital world providing a digital marketplace.
MyFlexiWork is a freelance marketplace company. This company serves as a potential freelance job site for posting and finding freelance jobs. This can be said as a valid way to conduct business online to have a positive buying and service providing (selling) experience. As this is not a common practice of doing conventional business, most people may find it somewhat overwhelming and daunting at first. But it becomes easy with practice. This company provides a user-friendly platform for ease of business and thus providing both buyers and sellers a harmonic environment to work.
How To Sell And Buy Freelance Services?
Although such freelance sites are getting popular now, there is still lot of people who are not well aware of the benefits of using such sites. Also, there are lots of potential job seekers who are well versed in their academic area but lack the knowledge of selling their service. This company is very much helpful for such job seekers where a global market is opened wide in front of them and they can find appropriate buyers who need their freelance services.
There might be companies or businesses or even individuals who are in need of a web designer for designing a particular website. There might be a lot of questions in their mind such as how to hire a web designer who has the skill sets they need, and how to find someone within their budget who can deliver the product as they need, etc. Web designers have a varied range of skills and can deliver anything from visual presentation of the website to the background research to the blueprints and much more. That means a web design project includes multiple deliverables and therefore a skilled freelance web designer capable of handling each element is required. This company provides the impeccable freelance web design marketplace where one can find out the apt web designer suitable for them.
Perfectly producing the most convincing gig can make the buyers search the particular person for their project. This company provides the freelance gig marketplace where buyers notice the gigs and choose a person accordingly. There lies the importance of producing a gig that includes all the services, activities as well as skills that one possesses so that the buyers can find out the suitable person easily. An effective gig can make a service provider easily noticeable.
It is a known fact that the service of a graphic designer is inevitable for a business. Finding a suitable graphic designer according to one's preference is also not easy. This company paves a perfect marketplace where a buyer can hire a freelance graphic designer across the world. This helps in finding the one with the perfect skills that a business requires, also the buyer can choose one according to the budget. There are lots of graphic designers who are really confused about where to start or how to find a graphic designer job, especially during this pandemic crisis. This company gives befitting opportunities to such people by offering numerous freelance graphic design jobs.
Any new business cannot avoid a logo designer. A logo serves as the identity of a lifetime. This site gives a way to connect with a lot of freelance logo designers who can deliver the perfect desirable logo. Thus it serves as a perfect marketplace for buyers to get their logo the way they needed and also for the sellers where they can find freelance logo design jobs suitable for them. Thus a perfect zone for logo designers to showcase their skills is supplied by this company.
This company offers a marketplace for freelance writing jobs too. A person who is passionate about writing can find this as a perfect place to deliver their knowledge. Writing includes various sections in digital media. One can find freelance technical writing, article writing, and content writing jobs online. To find a reliable as well as a trustworthy platform for such a job is a threat. This company is the perfect place to overcome such threats and find freelance services that one can trust.
Hiring an SEO expert is not easy. A person with deep SEO knowledge can only deliver the required result. Through this marketplace, one can buy SEO services online. Hiring the best SEO freelancer to outsource the SEO project is easy here. Likewise, an expert SEO provider can find out proper SEO freelancer jobs that can provide them a better opportunity and a global sector to deliver their skills.
MyFlexiWork also serves as a precise platform for freelance video editingjobs as well as freelance music mixing jobs. Therefore a lot of freelancers across the world who are interested or excellent in video editing and music mixing have published their gigs here and are available on this platform. Thus this company serves as an excellent place for those browsing for freelance video editors or those doing flawless music mixing.
Social media is a single platform where people around the world live. This is the common thread that binds everyone across the globe. There isn't another space where anyone or any business can get easily noticed. Therefore social media marketing is the much popular way to reach people. This company provides a lot of freelance social media jobs. Those who can do outstanding social media management are in high demand. This company serves as an exquisite place where one can find relevant freelance social media managers who can lead the business to the next level.
In short, MyFlexiWork is a relevant platform where one can find a total solution for all sorts of digital media jobs; no matter whether the person is a buyer or a service provider. This is the perfect space that respects both buyers and sellers and thus providing a trustworthy freelance marketplace.
Media Contact
Company Name: MyFlexiWork
Contact Person: Dr. Nilesh Panchal
Email: Send Email
Country: United States
Website: https://www.myflexiwork.com/