Supreme Trimmer Announces T-Shaper Men's Hair Clipper with Stainless Steel Blades and Accessories
Users can get a clean shave using an inexpensive lightweight hair trimmer with a long-lasting battery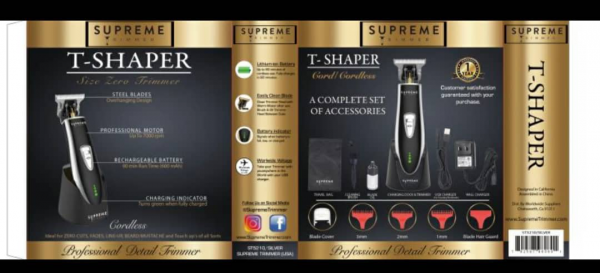 Supreme Trimmer announces their T-Shaper men's hair clipper for the perfect appearance. The product is designed to meet the hair grooming and personal care needs of the modern and stylish man.
Features that make the hair clippers unique include three guided combs, stainless steel blades, a 600mAh battery, a charging station, and lightweight and ergonomic design.
It's a must-have beauty kit for men who are tired of spending so much time on salon appointments. It's easy to use and offers a simple operation that makes grooming time fun and enjoyable.
To learn more, please visit here.
The average cost of a haircut in most parts of the US is $25. In addition to paying such a high price, customers will have to make an appointment with the barber and wait endlessly for their turn. Most people today don't have the luxury to waste time because of busy work and family schedules. Supreme Trimmer offers a fast, easy, inexpensive, and reliable way to get an excellent haircut.
For around $50, customers can get this powerful beauty toolset and be free from the troubles of barbers and barbing salons. The Supreme Trimmer T-Shaper can be used at home to achieve any kind of hairstyle. The construction of the device makes it easy to handle and manipulate, to reach any corner of the hair. It's also lightweight so that users can handle it for a long time without getting tired.
The hair trimmer has a powerful 600mAh battery that guarantees 90 minutes of continuous usage. That means no interruption in barbing and styling until the user gets the desired result. If the battery runs out just drop it in the charging station and within a few minutes it's ready to use again. Enjoy seamless trimming with a high rotation speed of motor and excellent stainless steel blades that is resistant to corrosion and assures smooth operation.
Each Supreme Trimmer T-Shaper men's hair clipper comes with essential tools and accessories like 3 x guided combs, cleaning brush, oil bottle, USB cable, charger stand, transparent blade hair cover, red cutter hair cover, user manual, and travel bag. Customers also get free shipping within the United States.
Also, check them on social media pages:
Media Contact
Company Name: Supreme trimmer
Contact Person: Media Relations
Email: Send Email
Phone: 818-855-2850
City: Chatsworth
State: California
Country: United States
Website: supremetrimmer.com