Aleida Castillo To Lit Up Ghana As Her Show Gets a Syndication Deal In The Country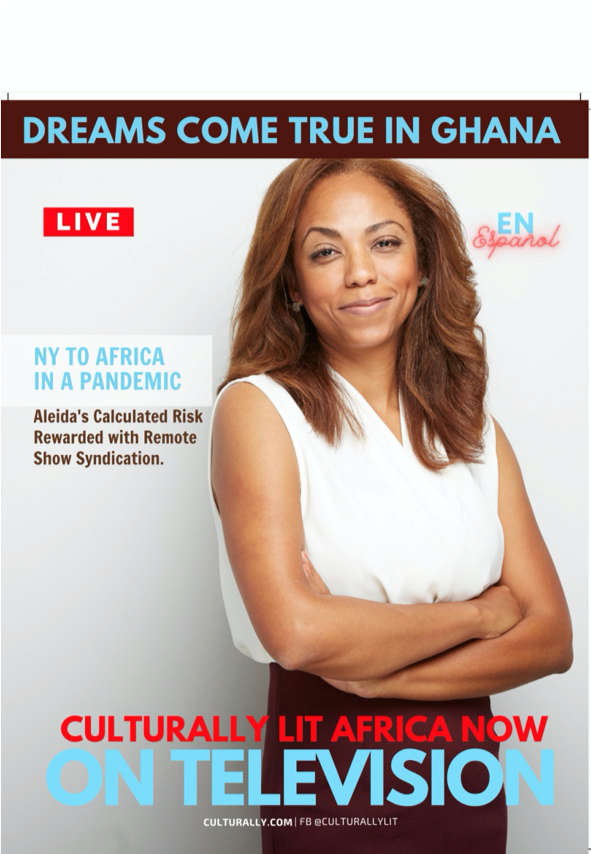 Radio show host and author, Aleida Castillo, lands a new syndication deal, as her show Culturally Lit Africa is set to go nationwide in Ghana
Aleida Castillo is spreading her wings across the globe as her show, Culturally Lit Africa, recently secured a syndication deal in Ghana. The recent feat will ensure that the show goes nationwide in the country, to be aired on two television networks and two radio stations – EEZYFM 107.5, Ahomka FM 99.5, Ocean1 TV, and ATV. In a related development, Aleida's Culturally Lit Africa will be coming to multiple countries and London soon.
Africa has been described by experts as the next business hub of the world. All data seems to be supporting the fact that Africa's potential as a growth market for business remains underestimated and misunderstood, with the continent's population projected to reach 1.7 billion by 2030 and the emergence of innovations to unleash the agricultural and resource wealth further substantiating this claim. Unfortunately, reports concerning Africa fail to highlight the huge potentials of the continent, often painting a gloomy picture and the difficulty in doing business in Africa. However, Aleida Castillo is looking to change this narrative as she launches Culturally Lit Africa to tell the story of the continent as it is.
Aleida Castillo brings with her award winning DJ of the year Aaron Kweku Sackey known as "DJ Saki" to join her as she aims to trigger constructive conversations about Africa, engaging the diaspora community and bringing them up to speed with happenings in the continent, especially as it relates to doing business. The national premier of Culturally Lit Africa is Wednesday June 8th and will feature discussions on civics as well as cultural issues of interest, offering a holistic view of the African continent.
Culturally Lit Africa can be described as the African version of The Culturally Lit Series, a quarterly online magazine with two special civics print editions a year covering the culture beat of Westchester and the world of civics. The show will promote the diversity of Africa, starting from Ghana, highlighting foreigners doing business in the country and successes achieved so far.
The show will premiere worldwide with guest celebrity consultant as seen on Nightline ABC, Rabbi Halevi, who is Aleida's father-in-law and the leader of the diaspora community in Ghana, discussing all African Americans moving to Ghana and coming to Ghana's PANAFEST Foundation (Pan African Theater Festival).
Aleida Castillo is also a TV host and author and she will be gifting her eBook titled "From Visiting to Doing Business in Ghana" to listeners of Culturally Lit Africa. The book chronicles the author's experience in the Gold Coast as she shares her discovery and how the captivating and huge potentials of the country turned her from a tourist to a businesswoman.
For more information about Culturally Lit Africa and other initiatives from Aleida Castillo, visit – Www.CulturallyLit.com and Facebook.
About Aleida Castillo
Aleida Castillo is a radio and television show host known for her political, business, and community engagement works to create a deeper connection to the local culture within multi-cultural environments. Over the years, she has been a close advisor to the campaigns of well-known political candidates across the state of New York, most recently serving as the advisor to MSNBC Legal Analyst Mimi Rocah and 2020 District Attorney Primary winner from Westchester County New York.
Aleida Castillo has also grown to become a sought-after public relations and business development professional, with non-governmental organizations (NGOs), corporations, and governments looking to leverage her ability to "connect the dots" in difficult and complicated scenarios and bring win-win solutions in multi-cultural environments.
Originally from the Dominican Republic, the proud mother of three children has continued to expand her horizon as she creates awareness of cultural diversity, especially for seemingly underrepresented communities.
Media Contact
Company Name: Culturally Lit Networks
Contact Person: Aleida Castillo
Email: Send Email
Country: Ghana
Website: http://www.culturallylit.com/