Iconic Special Event Planner, Alan Action from NYC buys the Former First National Bank Of Fort Plain to repurpose it into the Non-profit Art Space 'NYSAB'.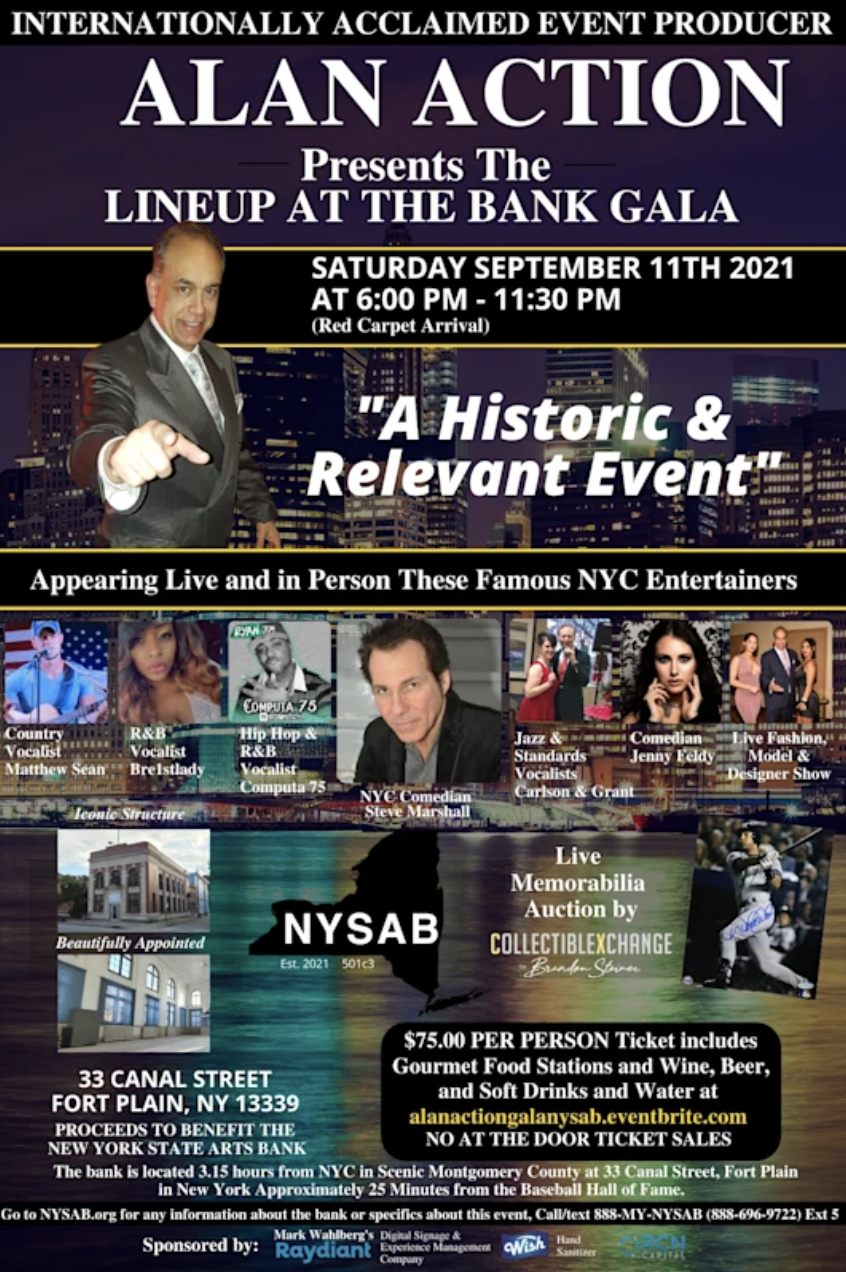 Internationally acclaimed event architect Alan Action presents the Grand opening of the New York State Arts bank in Fort Plain New York. The acclaimed Special Event Planner based in NYC has recently purchased the former First National Bank in Fort Plain New York and has remodeled it into a Non-Profit Art Space now known as NYSAB.
The Festivities will take place on September 11th, 2001 at 6 pm at 33 Canal Street Fort Plain, New York at the grand opening of the NYSAB New York State Arts Bank, with all kinds of artifacts, music, comedy, and food. The Grand Gala will also include honouring and commemorating two very important and historical events in the history of the United States, particularly in the NorthEast.
First, the birthplace of Bud Fowler, the first black Afro-American professional baseball player, manager, and club organizer who preceded Jackie Robinson. Despite being a stellar player, Fowler was not wanted or recognized enough by the MLB and the public because of his dark complexion. The New York State Arts bank will create a museum, monument, rock garden, and a memorial in his honour to create greater awareness for this phenomenal baseball figure, and proclaim his historical significance to educate all Americans and the world to his outstanding baseball skills and organizing capabilities despite much adversity, and also ultimately to get this incredible baseball icon inducted into the Baseball Hall of fame located only some 35 miles from his birthplace in Fort Plain.
Second, a tribute to the victims and martyrs of the 9/11 terrorist attack. The New York State Arts bank has created an architectural structure or a 911 memorial to honour the victims of the 9/11 attack on its 20th anniversary, composed of repurposed auto parts and metal from the early 2000 period. This terrorist attack is recognized as the deadliest attack in the history of America.
Earlier on that day, at Wiles Park in Fort Plain, there will be a baseball ordination or re-enactment of baseball legends like Bud Fowler with complete uniforms and rules the way baseball was played in his era. The ceremony will also include a Red Carpet meet and greet, a Memorabilia Fundraising Silent Auction, Art gallery displays, Special flag presentation, and Live music and comedy performers from NYC and surrounding New York Areas. Celebrities from all different industries have been invited to be a part of this iconic event. 'A historic and relevant event' is how Alan Action, the man behind this directive, defines it.
To learn more, use the media contact outlets below or call: 516-473-8399, 1-888-696-9722 Ext 5
Media Contact
Company Name: NYSAB.org
Contact Person: Alan Action Schneider
Email: Send Email
Phone: 516-473-8399
Address:33 Canal Street
City: Fort Plain
Country: United States
Website: http://alanaction.com/