Derrick Smith from D's Cutz Launches Premium Quality Beard Oil that is Wowing Every Customer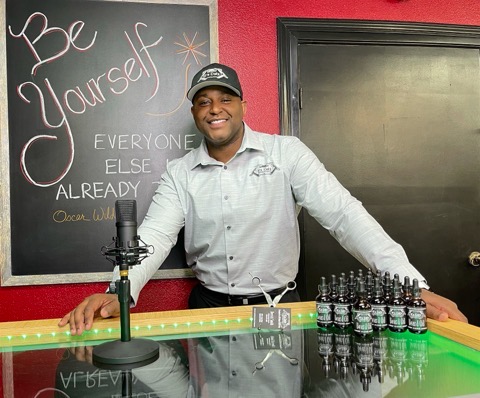 Professional barber Derrick Smith is glad to announce the launch of his very first product, D's Cutz Beard Oil. The seasoned stylist has grown his brand, D's Cutz, out of a passion for all things barbering. Derrick has launched a highly successful business, with beard oil as his latest product, made with an incredible formula of the best oils available to give beards a lush, healthy, attractive look and texture.
"One request surfaced shortly after opening D's Cutz. Customers would come in with dry, unruly beards needing moisturizing beard oil. The problem was, I didn't know of any to recommend. So, after much research and experimenting, I was able to come up with this rich, amazing beard oil that my customers love", says Derrick.
D's Cutz Beard Oil is a well-proportioned mix of some of the finest oils meant to bring volume and quality to all beard types. It contains a unique blend of nine oils that nourish both skin and beard, stimulate hair growth, and can even delay graying. With no water and no fillers, this 2oz bottle contains sweet almond oil, tea tree oil, argan oil, jojoba oil, avocado oil, grape seed oil, olive oil, rice bran oil, and sunflower oil. The product is now available for sale on the brand website.
After becoming a father at a young age, Derrick's first client was his very own son. Although it began as a means to cut back on cash, he discovered that he enjoyed cutting hair. He soon began cutting hair for friends and relatives and, in the process, developed a strong desire to become a barber.
"Eventually, I moved to Reno, Nevada and landed a good-paying, local-route trucking job. I was home every night, and I kept cutting. I watched barbering YouTube videos and was developing a reputation for providing good haircuts. I never charged. People would sometimes tip, and I would sometimes accept", says the pro-barber Derrick Smith.
In 2013 Derrick married a wonderful, supportive woman who encouraged him to follow his dreams. He eventually got to attend barbering school in Sacramento, while still working as a truck driver. Derrick finally quit his job to pursue his passion in 2016, completed his apprenticeship, and officially became a Master Barber in early 2018.
D's Cutz Barber was finally launched in Sparks, Nevada, on May 1, 2018. Derrick crossed his first landmark when D's Cutz was voted best barbershop in Reno for 2018.
For more information, please visit: https://www.dscutz.com/
Media Contact
Company Name: D's Cutz Barbershop
Contact Person: Derrick Smith
Email: Send Email
Phone: 775 – 297- 6886
Country: United States
Website: https://www.dscutz.com/