CryptCard Wins Second Place in Polkadot Hackathon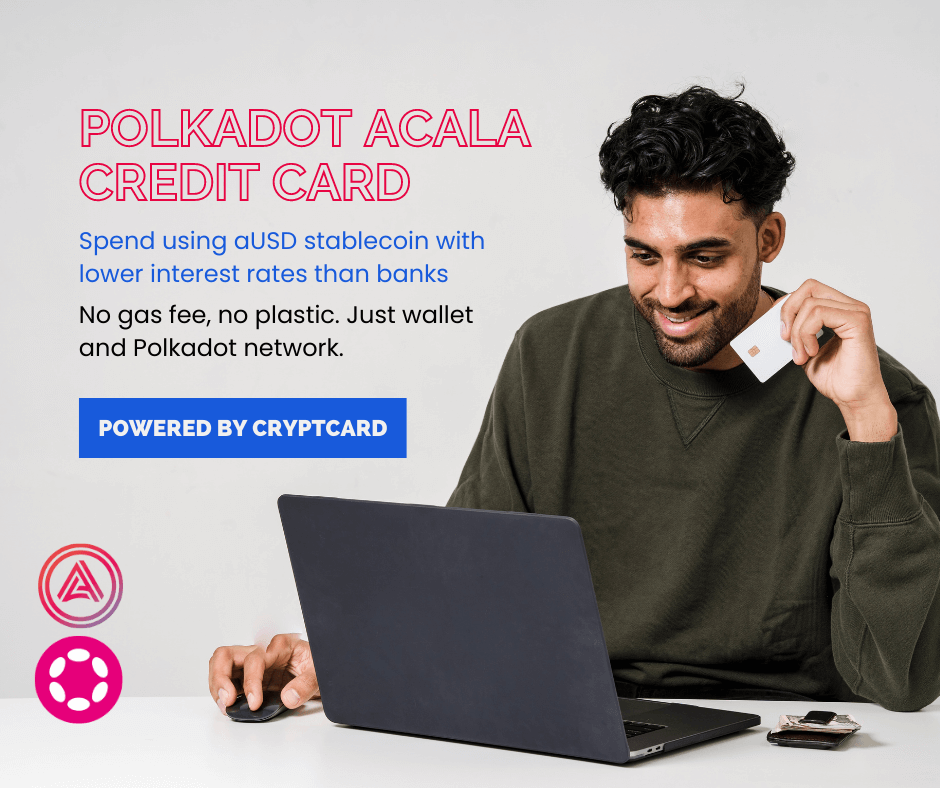 The winning project is a cryptocurrency-based credit card that enables cardholders to spend in tokens or stablecoins without incurring gas fees.
After barely a month into its operation, CryptCard won the second prize in the 2022 North American edition of the Polkadot hackathon, under the DeFi category. CryptCard's submission was entitled "Acala aUSD Credit Card" and it won a prize of USD15,000 for its effort.
The global online event lasted from May 30 to July 13 and submissions were divided into five categories – interfaces and experiences, DAO and governance, Web3 and tooling, DeFi, and NFT category.
On top of the category prizes, there were also 30 over sponsors' prizes each with a specific challenge for participants to undertake.
CryptCard chose to participate only in the DeFi category and Acala Bounties sponsor's category. It focused on using aUSD, the native stablecoin for the Polkadot network, as the cryptocurrency to power a conceivable Acala crypto credit card. Acala is a decentralized finance network on the Polkadot platform that powers the aUSD stablecoin. It is a layer-1 smart contract platform that is compatible with Ethereum (EVM compatible).
The proof of concept presented by CryptCard revolves around the use of MetaMask and Polkadot.js wallets as virtual credit cards which enable cardholders to transact with aUSD stablecoin at any supporting merchants. The entire process feels like a traditional credit card transaction, including the end-user billing and merchant settlement experience. The reason why CryptCard chose to include the MetaMask wallet is to offer a better user experience, especially to those who are not familiar with Polkadot or Acala. By supporting the most popular blockchain wallet in the world, new cardholders can conveniently use their existing MetaMask wallet to transact. This breaks down the enormous barrier of entry that most newcomers would experience when migrating to a new blockchain platform.
Video Link: https://youtu.be/7SXM_JWSAYA
CryptCard further eliminates the entry barrier by empowering cardholders to transact without paying gas fees. Gas fee, similar to remittance fee, is a common fee that every cryptocurrency user experiences when transacting in crypto. It is used to pay for the use of a blockchain network. By removing gas fees when spending with CryptCard's credit card, users can save enormous costs, especially on expensive networks like Ethereum.
This hackathon event was the second in a series of hackathons to bring Polkadot blockchain to the global community. Although this remotely run event was focused on the North American region, it was open to individuals and teams across the world.
The summer of 2022 was particularly busy for the Polkadot community as this event was organized in parallel with Polkadot Decoded, its annual conference that happened from June 29 to 30.
Throughout the hackathon period, numerous online events were held to support participants such as the first-ever Polkadot Hacker House held in New York City, from June 23 to 28, online workshops and online office hours.
The team at CryptCard is humbled by this achievement and wishes to thank the organizers, judges and participants who were involved in this phenomenal event.
This winning serves as a small step for CryptCard with the aim to make a giant leap in the DeFi and credit card markets.
Media Contact
Company Name: CryptCard Inc.
Contact Person: Melvin Wong
Email: Send Email
Phone: +821042414128
Country: United States
Website: https://cryptcard.cc