LABIO released 'STRATOCARE,' an ingredient to decrease sebum
– Made from a fermented metabolite of B. stratosphericus inhibiting and found in the stratosphere.
– It prevents the increase of sebum by retraining NO generation by macrophage.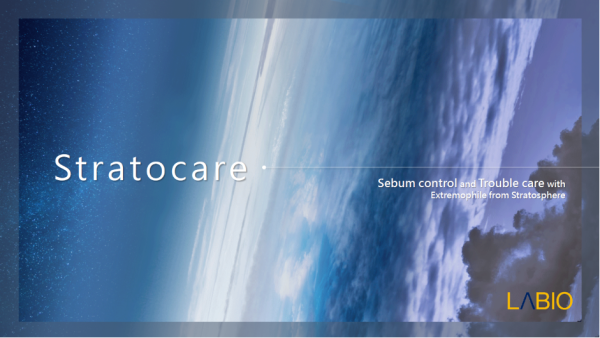 LABIO (president: James Cho) released a new product, 'Stratocare,' which regulates the sebum, the skin contamination in the human body.
Newly released 'Stratocare' is made from LABIO's research method. LABIO is a company for R&D and production of various cosmetics active ingredient using microorganisms living in extreme environments. 'Stratocare' is a material to reduce sebum by using the fermented metabolite of B. stratosphericus, which inhibits and is found in the stratosphere.
The essential material of this research, 'Bacillus stratosphericus (B. stratosphericus),' is a microorganism that breathes and grows based on nitrogen compound, a component of the stratosphere.
According to the in-vitro assay, Stratocare intervenes in the sebum's generation mechanism, which is well known in the relationship between sebum and skin, through various ways. The experiment with artificial sebum proved that the amount of sebum gradually decreased. Especially, it restrained the growth of C. acnes, which is the cause of increasing sebum, and the generation of 'NO' made by macrophage, according to LABIO.
"From the microorganism's perspective, its inhibition on human skin is like various human races are living on Earth," and "by utilizing its excellent vitality and ability to decompose contaminants through its metabolite, we will develop the materials more familiar to human skin," LABIO said.
At the same time, LABIO keeps developing and researching on improving the problems occurring on the skin in the cosmetics industry in various ways through its original material science research lab.
Media Contact
Company Name: LABIO Co., Ltd.
Contact Person: Curtis Kang
Email: Send Email
Phone: +82 2 2113 0529
Address:#307-309, 184 Gasan digital 2-ro
City: Geumcheon-gu
State: Seoul, 08501
Country: South Korea
Website: www.labio.kr