Villiams Osipovs, Optimist Sailor from Fraglia Vela Riva, Set to Compete in African Championship
Villiams Osipovs, Optimist sailor from Fraglia Vela Riva, competes in African Championship. Free copies of his book available. #OptimistSailing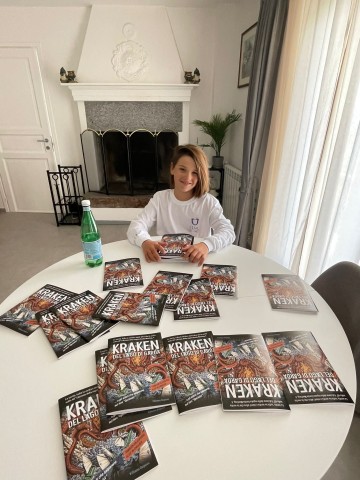 Young Optimist class sailor and ambassador, Villiams Osipovs has been training at Fraglia Vela Riva (Mauro Berteotti and Benedetta Boniotti) and attending sailing clinics at Atlantis Academy with Jonas De La Cruz and Simone Ricci in order to prepare for the African Championship in Morocco.
Atlantis Academy has also supported Villiams in his journey by providing a coaching voucher for a future African champion.
"I appreciate that Atlantis Academy is also onboard" said Villiams. Sailing is a way to connect with nature and experience the world in a new way, and Villiams is excited to represent his club and showcase the beauty of Optimist sailing worldwide through his Instagram account
In addition to being a sailor, Villiams is also a published author. His book, Garda Kraken, (gardakraken.com) which features an adventure story about a monster in Lake Garda, highlights the largest regatta in the world and promotes Optimist sailing. The digital version of the book is available in three languages and can be downloaded from gardakraken.com. Villiams plans to distribute free copies of the book during the championship in order to further promote the sport.
"I'm so proud of my club for supporting me in my journey as an Optimist class ambassador," said Villiams. "I hope to inspire others to take up the sport and experience the joy of sailing."
Taking part in the African Championship is not only an important sailing experience for Villiams, but also an opportunity to connect with sailors from different continents. To support all participants, Fraglia Vela Riva has provided complimentary t-shirts for each sailor. The club is dedicated to promoting the sport of sailing and encouraging young sailors like Villiams to pursue their dreams.
As Villiams prepares to embark on this exciting journey, he is grateful for the support of his club and fellow sailors. He hopes to inspire others to take up the sport of sailing and experience the joy that it brings.
The sailing community wishes Villiams the best of luck as he competes in the African Championship and continues to promote Optimist sailing around the globe. His dedication and passion for the sport serve as an inspiration to all young sailors.
Media Contact
Company Name: Opti News
Contact Person: Alex Davidson
Email: Send Email
Country: Malta
Website: www.opti.news