Amaryllo Launches a Revolutionary Encryption App with Private Cloud Storage, Empowered by Blockchain Technology
Amaryllo's Innovative App Heightens Data Security for Individuals and Businesses.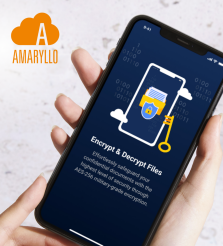 Amaryllo, a trailblazer in cutting-edge technology solutions, proudly announces the launch of its latest innovation: an unparalleled Encryption App with Private Cloud Storage, fortified by the revolutionary power of blockchain technology. As the global cloud encryption market surges from $3.1 billion in 2023 to an anticipated $45.6 billion by 2033, Amaryllo sets a new benchmark for digital security. This monumental release marks a significant milestone in digital security, setting new standards for safeguarding sensitive data and enhancing user privacy.
This cutting-edge App enables users to effortlessly and securely share encrypted files, empowered by advanced user verifications directly from their mobile devices. Moreover, users are endowed with integrated 10GB cloud storage, with an option to seamlessly scale up to larger capacities—a particularly valuable asset for businesses and organizations seeking to securely store and exchange sensitive files within their ecosystem.
Cindy Kuo, Amaryllo's VP of Sales and Marketing, emphasized, "Our Encryption App with Private Cloud Storage embodies our commitment to empowering individuals and businesses, safeguarding their sensitive data."
As the landscape of cybersecurity continues to evolve, Amaryllo remains at the forefront of innovation, providing unmatched protection against the escalating risks of data breaches and unauthorized access. Experience our solution at IFA, Sept1-5 Hall 22, Booth#212.
For more details, contact Amaryllo at [email protected]
For updates, follow Amaryllo on Social Media:
Linkedin: https://www.linkedin.com/company/amaryllo/
Twitter: https://twitter.com/amarylloinc
About Amaryllo:
Amaryllo, at the forefront of pioneering and innovation in the field of cloud storage services, wholeheartedly dedicates itself to crafting tailored data protection solutions for both individuals and businesses. Renowned for its cutting-edge contributions, Amaryllo has secured consecutive CES Innovation Awards, solidifying its global recognition. Pushing boundaries in biometrics, cloud services, encryption, and edge computing, Amaryllo redefines security, offering unmatched protection and convenience to customers. Learn more at: https://www.amaryllogroup.com
Media Contact
Company Name: Amaryllo Inc.
Contact Person: Olga Dugarova
Email: Send Email
Phone: +1-949-316-1222
City: Irvine
State: CA
Country: United States
Website: amaryllogroup.com