A new series of books starting with The Adventures of Eleanor and Rallo "Fear of Flying" has been released.
The Adventures of Eleanor and Rallo (Fear of Flying) is a story woven around a girl called Eleanor and her cat Rallo. Eleanor and Rallo are about to go on their first Airplane trip, but they're a little afraid. They are not sure what will happen, but luckily together and with imagination and a little bravery, they will hopefully get over that fear. It's now available on Amazon and Kindle. The book is recommended for children between the ages of 3-10 years.
So Join Eleanor and Rallo, a little girl and her best friend who are inseparable, on a joyful journey as they conquer their fears and fly to new heights in "The Adventures of Eleanor and Rallo: Fear of Flying." Written by Kristin Elibuyuk, this heartwarming children's book takes readers on a magical voyage of discovery, courage, and friendship.
Eleanor and Rallo go on numerous adventures together in their comfortable small world. They are about to fly on their first flight, which will present them with a brand-new task that makes them a little nervous Anyone might feel a bit uneasy about flying because of the unknowns, but Eleanor and Rallo have a secret weapon in their mother's loving guidance and each other's unshakable support.
The heartwarming story "The Adventures of Eleanor and Rallo: Fear of Flying" brilliantly portrays the spirit of young children's fears and the strength of friendship. Young readers will identify with Eleanor and Rallo's butterflies in their tummies as they navigate the airport, board the plane, and experience takeoff and will feel their nervousness. The narrative also highlights these courageous companions' persistence as they gradually overcame their fear.
Kristin Elibuyuk skillfully weaves a tale that teaches empathy, stimulates curiosity, and emphasizes the value of seeking comfort in trying circumstances. The narrative has many heartwarming and humorous passages, making it an enjoyable read for both kids and parents.
This book attracts young readers with colorful and fascinating drawings that vividly depict Eleanor and Rallo's world, inspiring their imaginations and inspiring them to explore the world with wonder and courage.
Writer Kristin Elibuyuk is a talented author. The author develops enchanted worlds that attract readers of all ages out of a passion for storytelling. "The Adventures of Eleanor and Rallo: Fear of Flying" is the most recent masterwork and is destined to stand out among children's literature.
It is a Book series for children young and old. It is a fun series about a little girl named Eleanor and her cat Rallo and the fun adventures they have together while facing the challenges of growing up. It is currently being sold on Amazon and Kindle.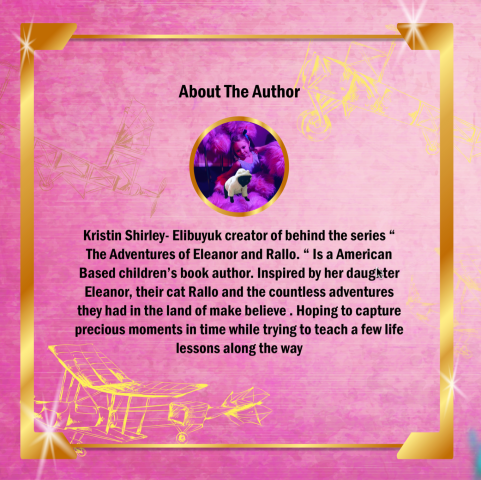 Media Contact
Company Name: The Adventures of Eleanor and Rallo (book series)
Contact Person: Kristin Elibuyuk
Email: Send Email
Country: United States
Website: https://www.amazon.com/s?k=The+Adventures+of+Eleanor+and+Rallo+%28Fear+of+Flying+%29&i=stripbooks-intl-ship&crid=2O9OS95K6E8TF&sprefix=the+adventures+of+eleanor+and+rallo+fear+of+flying+%2Cstripbooks-intl-ship%2C844&ref=nb_sb_noss